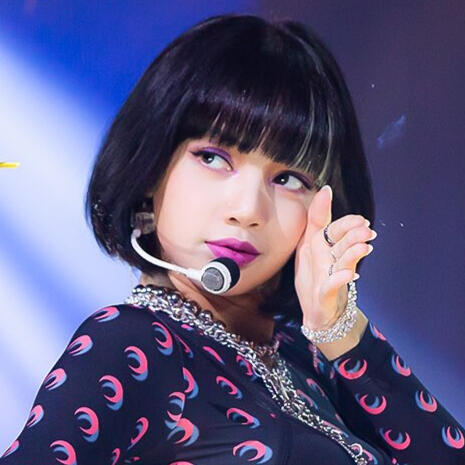 L1SA SOLO (LS1)
Find all the information on preparing for Lisa's upcoming solo! Let's make it the best solo debut #FORL1SA and set some new records! - LSN
Voting
Please follow the guides on how to properly collect coins/stars/hearts to use for voting. Start collecting as much as possible every day, but don't let them expire. Let's be prepared for Lisa's solo!
Visit Lisa Voting Team's Carrd for voting tutorials: lisa327.crd.co or click the Lisa image below to access their carrd.
Streaming & Billboard Guidelines
These are rules to follow for streaming Lisa's solo! Having premium streaming services has more weight than free streaming services so be sure to use free trials for premium services (see below)! U.S. Residents, remember after the first day, focus on Apple Music and Spotify more so than YouTube because they have more weight when it comes to Billboard.

Note: For streaming, you may also use other platforms besides YouTube, Spotify & Apple Music, such as Amazon Music, Pandora, Tidal, Deezer etc. but YouTube, Spotify & Apple Music have more weight, especially if you're using a premium version.**
Get free premium trials! If you've already used your free trial, make another account with a different e-mail so you can use another free trial.
Buying Guidelines
PHYSICAL ALBUMS

If you're from the U.S. (meaning you have a U.S. address and U.S. based payment method), you should purchase from a place that counts toward Billboard charts rather than Korean charts. U.S. residents can't mass buy because purchases over 4 per address will not count for Billboard. If you're from the U.S., follow the guide below to see where to purchase.

If you're from anywhere else, feel free to purchase from anywhere that counts toward Korean charts ex: Ktown4u, YG Select, etc.

Note: We are hoping Interscope/UMG will release her physical album to U.S. retailers, but there is no guarantee.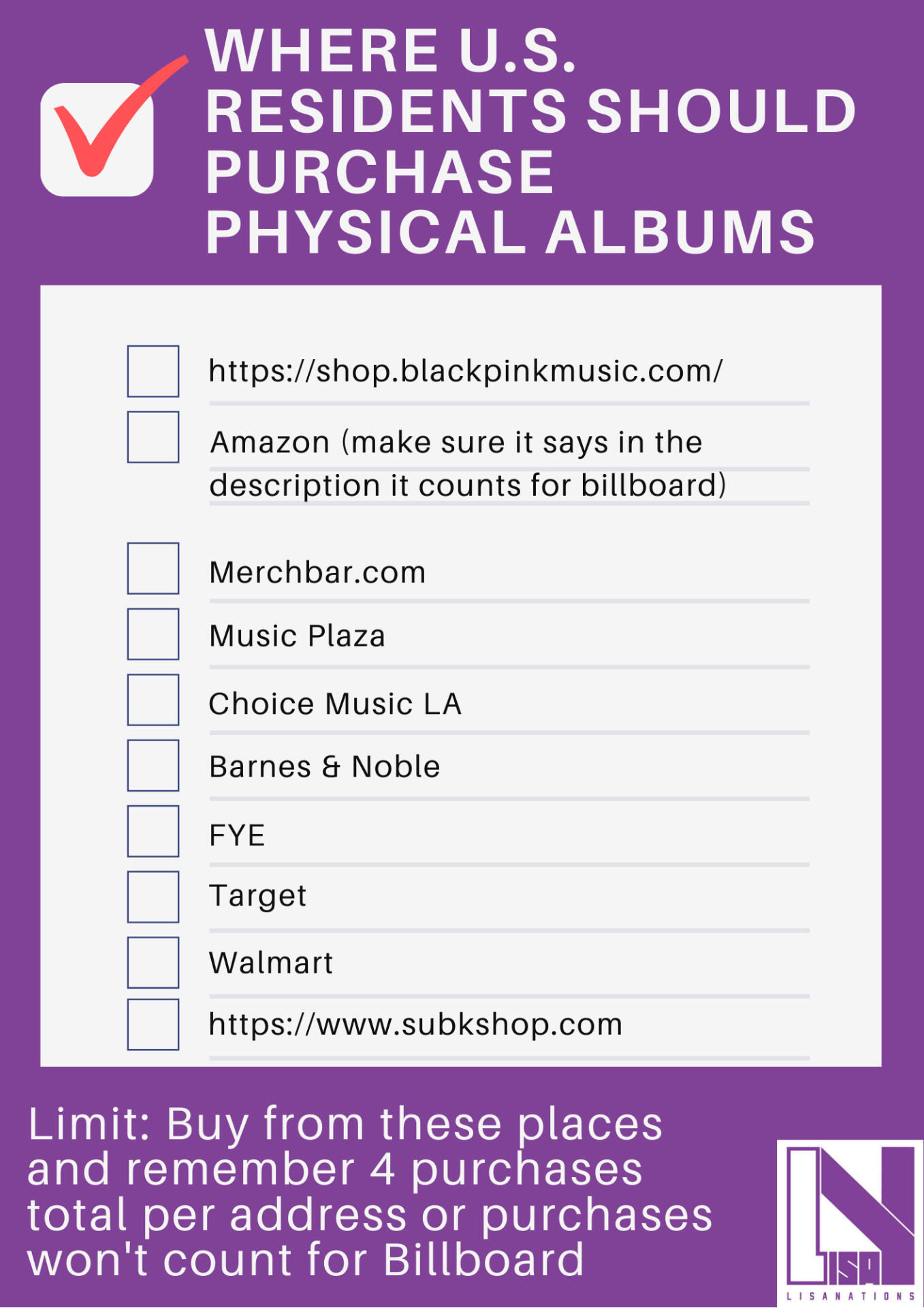 DIGITALS

If you're from the U.S. (meaning you have a U.S. address and U.S. based payment option), you can only purchase 4 per credit card per platform or they will not count toward Billboard charts. Please be prepared with 4 separate iTunes accounts and 4 separate Amazon accounts to use per card. If you have 2 credit cards, then make 8 accounts for each. You cannot buy the song multiple times on the same account. It's important to make multiple accounts to maximize pure sales. Click below to find out how to make multiple accounts. Note, if you have don't have an iPhone, but you have a laptop with iTunes capability, you can still purchase on iTunes via your laptop/computer, just make an account! We will be funding U.S. digitals for at least a month so the more accounts the better!
Fundraising & Group Orders
Fundraising will continuously be updated as more become available!
Lisanations
Other Fanbases By Country
receiving funds
To receive funds:
Click below to fill out the google form provided by your country.
After filling out the google form, during the week of release, have your direct messages open and be patient.

Note: Receiving funds will depend on how much money is raised. If not enough is raised, you may not receive funds. If those funding are unable to contact you via dm or you have incorrect payment info, you will not receive funds.
Group Chats
Please fill out the google form below if you'd like to be a group chat representative for your country. Group chat representatives will be responsible for making group chats for their country and relaying important information from LSN to their group chats. They will also do group orders for their respective country if applicable.
Shazam and Radio Guide
This is most important for U.S. residents, but everyone can participate!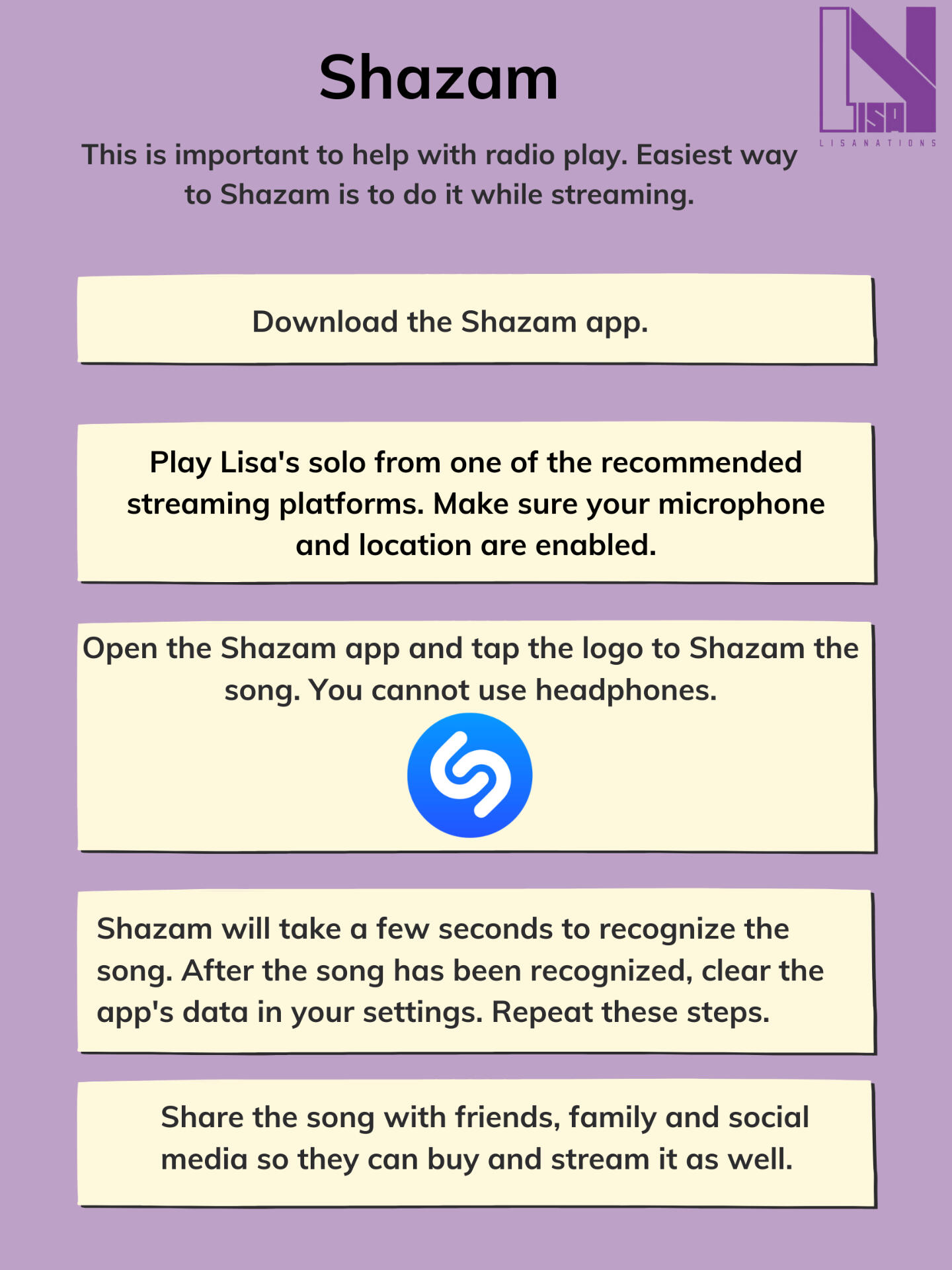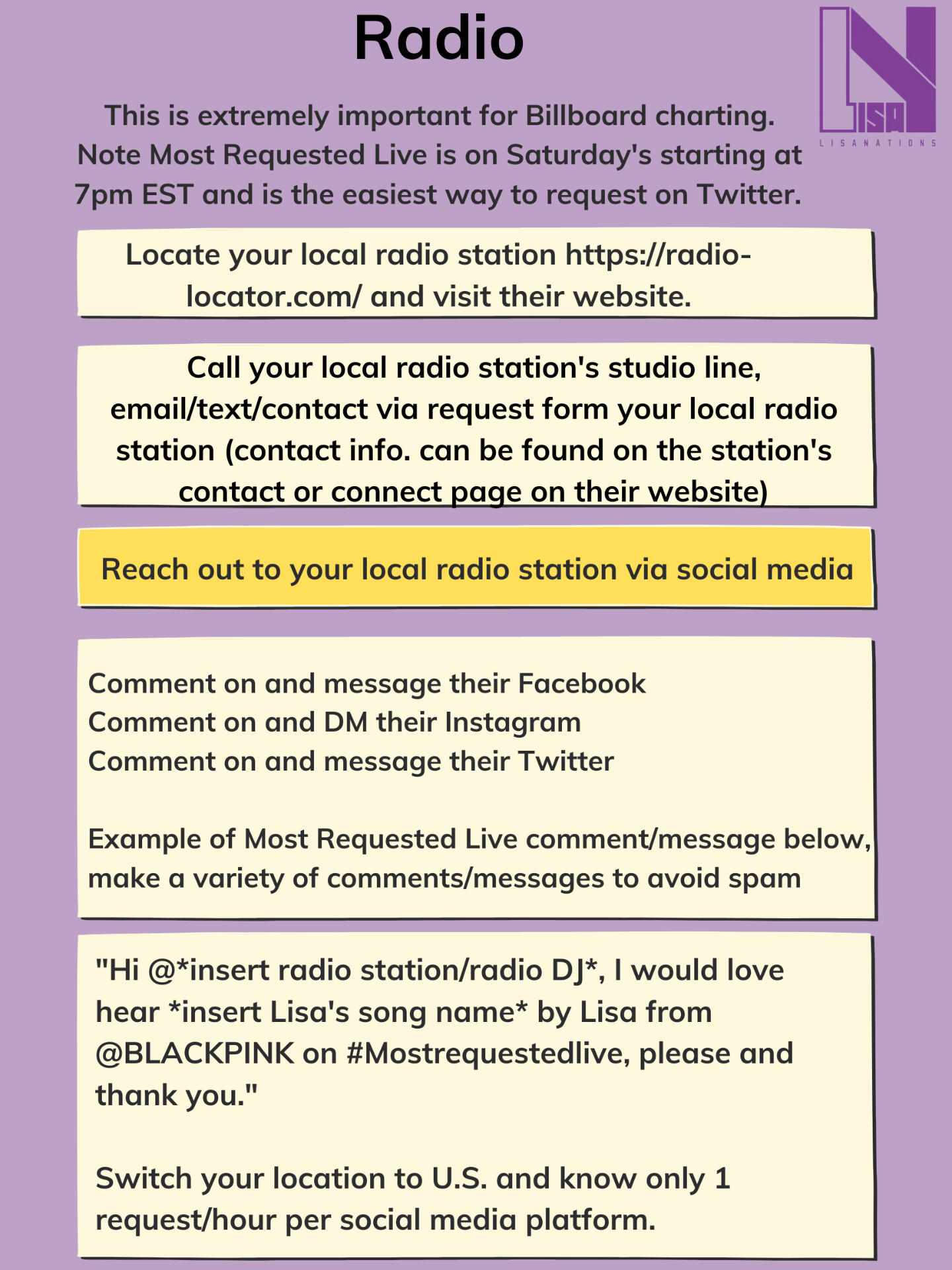 Coming Soon
Link for U.S. residents to purchase physical albums will be added once Lisa's solo becomes available.
Google form links to receive funds will be added as they are created.